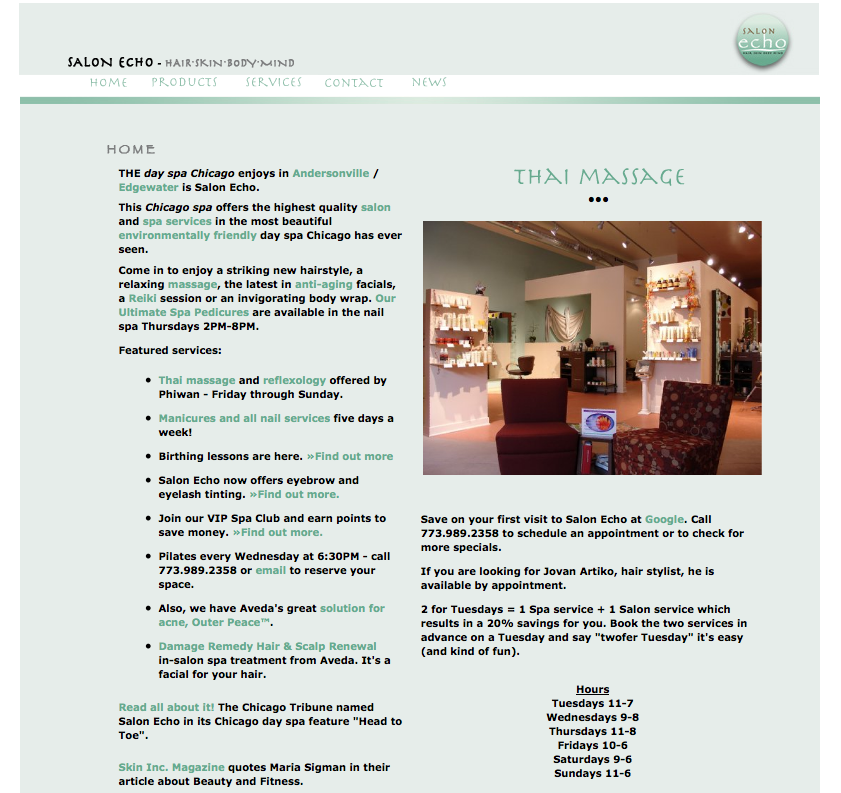 Salon and Spa Search Engine Optimization (SEO) by Search Engine Marketing Chicago, Inc.
Gary Sigman began working on the business plan for Salon Echo in 2003. Along the way he began importing a super premium organic line of skincare from Australia. The business plan for Salon Echo won the Small Business Adminstration and North Community Bank's approval and funding and qualified the business for a TIF grant from the City of Chicago.
Sigman was trained as a salon and spa manager by Durocher Enterprises. The spa opened in late 2005 with Sigman as the owner-manager and marketing director. The website proved instrumental in maintaining an average of five new customers per day for more than a year. sem[c]'s salon and spa search engine optimization of the site resulted in Search Engine Return Placement (SERP) on Google's front page for a number of key search phrases. As a result the site averaged about 50 visitors per day.
Our clients have found that our help has enabled good, solid growth and that new clients are frequently brought into the shop from the Web.
Visit our spa and salon clients:
Contact us to get your beauty business noticed!