We have a proven track record of successfully assisting clients who have experienced poor service from their previous suppliers, which is a situation we often encounter. Unlike their previous provider, our approach to administering Google Ads goes beyond simply setting things up and leaving it at that. We understand the importance of daily maintenance to ensure an effective Google Ads campaign that minimizes the cost per click and maximizes the number of genuine conversions. This approach is an integral part of our sem[c] strategy for SEO.
Speaking of conversions, it is essential to differentiate between merely reaching the landing page of an ad and a true conversion. While the previous provider mistakenly considered page views as conversions, we recognize that a genuine conversion signifies a meaningful step towards a purchasing decision, such as filling out a form or making a call. To compound their error, this provider insisted on setting up Google Ads to generate more conversions without accurately identifying true conversions. Consequently, Google's algorithms were simply targeting more people similar to those who visited the landing pages due to irrelevant searches, leading to further unfavorable search results.
By partnering with us, you can expect a comprehensive approach to Google Ads management that includes continuous maintenance, accurate conversion tracking, and a focus on driving genuine results for your business.
Establishing the definition of a conversion is an important part of the sem[c] Onboarding procedure which is the starting point of the sem[c] SEO Process illustrated below: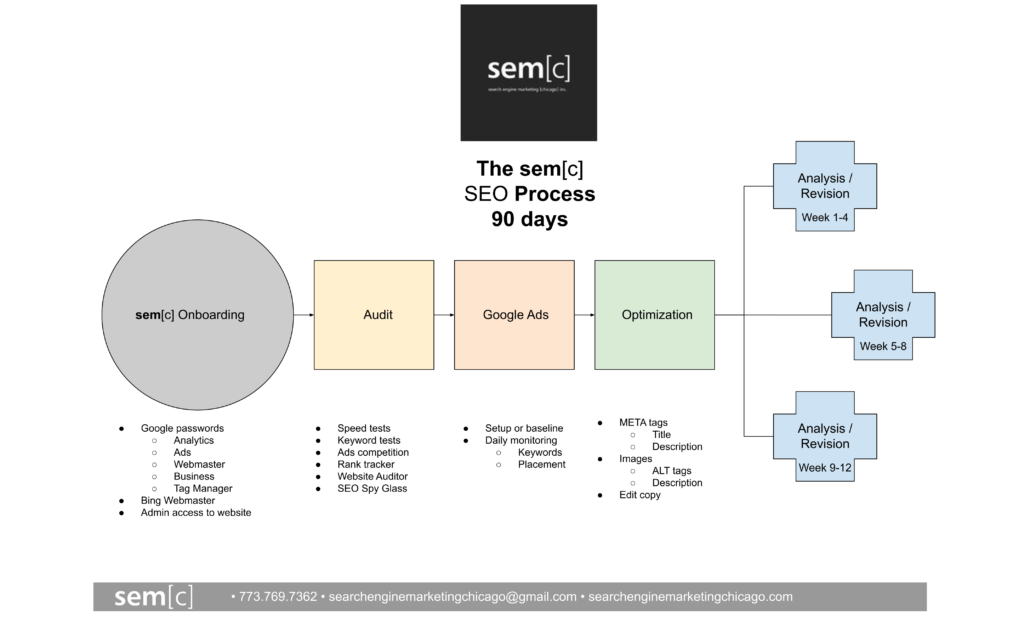 SEO is serious business and we do it the way it should be done.
Call us, email us or reach out on social media to find out more about how sem[c] can make SEO work for you.